So, you have just finished the last episode of the show you were watching and now you're sad that you have to wait an entire year for the next season… or worse, it's been cancelled!
Luckily, I am a professional binge-watcher and over the years I have learned that some series are simply too good to only watch once.
1. 30 Rock
30 Rock is loosely based on Tina Fey's years at Saturday Night Live. It follows the life of Liz Lemon (Tina Fey), as the head writer for a live sketch-comedy show as she attempts to deal with the network's new president (Alec Baldwin) and unstable movie star, Tracy Jordan (Tracy Morgan).
Tina Fey is hilarious as both a writer and an actress, making this show a wonderful, awkward and entirely lovable combination of the two.
Reasons to watch it:
They made a musical called The Rural Juror
Deals with real life challenges that women experience in the working world
SO MANY POP CULTURE REFERENCES
Liz Lemon has amazing comebacks
The absolute best guest appearances. I won't spoil it for you, just go and see.
There are seven seasons, go forth and conquer.
2. Scrubs
I hope you know that by Scrubs, I only mean the first 8 seasons and deny anything relating to it after that.
The series follows the lives of employees at the fictional Sacred Heart teaching hospital. Narrated by JD (Zach Braff) it shows his interactions with his fellow doctors as they solve medical mysteries and do many things that should never be done in a hospital.
Reasons to watch it:
Best bromance ever recorded in history and the universe
A show that will make you laugh and then cry and then laugh again
Cox is the KING of ranting
Each episode closes with a life lesson that's actually relevant and useful
The Janitor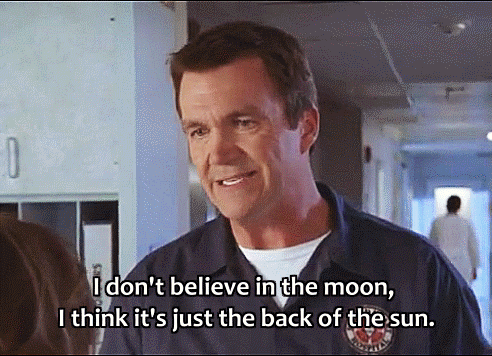 I re-watch Scrubs almost every year and have been doing that since I was sixteen years old. I recommend it entirely. Please, go, be blessed, be happy.
3. Parks and Recreation
I have already made three posts about Parks and Recreation (See here, here and here).
Parks and Recreation follows the life of Leslie Knope (Amy Poehler), an enthusiastic and ridiculously passionate government official who attempts to turn an unused pit into a beautiful park. This government department is run by Ron Swanson (Nick Offerman), who openly hates the government and a bunch of over-the-top, but perfect characters you will come to know and love.
Just as with 30 Rock, it should be mentioned that Amy Poehler is also an amazing writer and actress, so again, Parks is amazing and what is even more amazing, is that Amy and Tina are life-long friends.
Reasons to watch it:
Leslie helps you figure out how to have a more positive outlook
Also deals with real issues that women are faced with in the working world
Each and every character will be your favourite, including the antagonists
Ben and Leslie are #couplegoals
Everything Ron Swanson says
Oh, and be prepared to tear up rather regularly.
4. Arrested Development
I was late to the party with this one, but watched the first 3 seasons in the space of two weeks.
Michael Bluth (Jason Bateman) takes over his father's development business after his father is imprisoned and his weird, dysfunctional family make life difficult for him and entertaining for us.
The cast is fantastic (Jason Bateman, Michael Cera, Will Arnett, Portia de Rossi etc.) each of them playing their twisted, stupid roles perfectly, to an extent where you're happy they are unreasonable people.
Reasons to watch it:
Baby Michael Cera is everything ever
You will learn about Never Nudes
It has the best versions of the chicken dance
GOB is the best at being the worst illusionist
You will meet Tobias, and that should be reason enough.
It's very cleverly written. Just trust me and go.
5. Friends
F.R.I.E.N.D.S is obviously on this list, I feel almost offended that I have to give you reasons to watch this show, but anyway, let me start.
Friends has been everyone's favourite show since 1994. I was two years old and somehow, even then, I will assume it was my favourite show (It wasn't, I loved Barney the dinosaur). With 10 full seasons, it could take you forever to watch it, but get started, and you'll finish it pretty quickly.
The characters are all lovable, except Ross. Ross is trash, but is so annoying, that he becomes funny. The first season will seem a bit slow as you get to know each character and once you know them, you will laugh at almost everything, as if it's a private joke between friends.
Reasons to watch:
You will have jokes to quote for the rest of your life
Smelly Cat
The characters are relatable, even though they may be nothing like you
The fashion!
It will teach you the perfect pick up line to be used on anyone.
You have more than 300 hours of FUN waiting for you, go and be happy.
Shameez, la Binge-Watcher